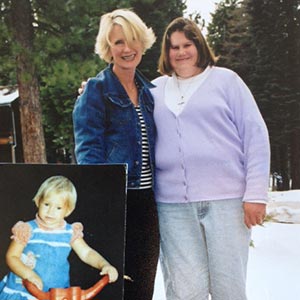 Showtime: July 9th and July 16th 2014
Corporate Pain and Dismantling of Personal Identity
Sherri Stoneberger
Sherri Stoneberger's life's meaning and direction have always been defined by helping family and others. Originating from a Danish immigrant family of 14 children in a small farm town in Oklahoma, Sherri Stoneberger dreamed of having a better life than the struggling farm life of her parents. She pursued a Bachelor's degree at the University of Central Oklahoma and later studied Educational Psychology at California State University East Bay. She married an Air Force officer and became a young mother of a treasured son Mark. Her family was soon transferred to Honolulu, Hawaii, where she welcomed a beautiful daughter Melissa to the world.
Eighteen months later, the direction of her journey changed forever with Melissa's diagnosis of brain cancer. Sherri's never-give-up attitude determined how she shaped her life during this period. When doctor's said there was no hope , Sherri committed to a different reality that there was and she raised her daughter with that philosophy.
Sherri took her experience and background to purse a Real Estate Executive career 28 years ago to accommodate a flexible schedule of doctor's appointments and continuing treatments for Melissa. She flourished in meeting the needs of other families and providing a wonderful environment for her daughter and family.