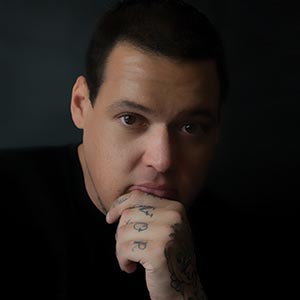 September 3rd and September 10th, 2014
David Tuccaro Jr.
Fort McMurray, Canada's David Tuccaro Jr. is Bad To The Bone
Available Now in Print and on eBooks For Amazon Kindle, Barnes & Noble Nook, Apple iBooks and Kobo
(Columbus, Ohio/Los Angeles, CA), January 6, 2014 – Seraph Books announces the availability of the highly anticipated book, Bad To The Bone, by acclaimed author, Oprah's Ambassador of Hope, Marala Scott. Ms. Scott shares the powerful true story of David Tuccaro Jr. in a heart-wrenching narrative that inspires you to believe when there is no evidence of hope. Born and raised in the now controversial, Ft. McMurray, Canada, David Tuccaro's story breathes healing and inspiration.
David Tuccaro Jr. is a Mikisew Cree First Nation. Born and raised in Ft. McMurray, Canada he takes you on a tumultuous journey of self-discovery through pain, hopelessness and the feeling of inadequacy. His father, one of Canada's most successful business leaders, sets the bar so high that David is fearful of aiming for it. Searching to find his purpose, he desperately attempts to live out his passion. His only reprieve is to dive inside music and find healing from there as he struggles to fit in a world that doesn't understand him.
Unaware of his horrific fate, David captivates you with a tour through his experiences. He shares the shocking revelation of what happens when you don't appreciate the value of life. When it's nearly ripped from him without forewarning, David must find the courage and strength to battle something so vile and vicious, no one believes he can conquer it, because it's Bad to the Bone!
David is a powerful advocate bringing awareness to the life-saving impact that a donor unselfishly provides. For more information about David Tuccaro Jr. and how to become a donor visit: www.DavidTuccaro.com
Marala Scott is an Award-winning Author and Oprah's Ambassador of Hope, (In Our House: Perception vs. Reality and Surrounded By Inspiration). Marala Scott takes you inside the horrific battle of a young man with Leukemia and shares the unique perspective of his bone marrow donor. The Story of David Tuccaro Jr. will give you strength and inspiration never before felt! For more information on Marala Scott visit www.maralascott.com.
"What he describes is that journey we are all seeking; it is that transformation to a better life."
–Dr. Gary Ruelas D.O., Ph.D.
"This should be a television show done by a conscientious film maker— This story is nothing less than an epic."
–Peter C. Newman, Legendary Journalist and Author